Metals and Inorganics Sectoral Approach (MISA)
MISA is a 3 years cooperative programme (since 2018) between ECHA and industry that addresses outstanding technical and scientific issues specifically for the metals and inorganics sectors and concurrently further improves the registration dossiers in these sectors.
MISA fits in with ECHA's Integrated Regulatory Strategy and the 2020 SAICM objectives. The latter aims - by the end of 2020 - at identifying outstanding REACH and CLP standard information endpoints, if any, as well as further information, supply chain communication or risk management needs, where relevant. It applies to all tonnage bands.
MISA is a voluntary programme that participating metals and inorganics consortia & associations endorse by signing a "Framework for Cooperation" which contains a MISA general rolling action plan, covering the period 2018-2020. MISA's aim is to cover as many metal compounds and inorganics as possible.
The action plan focuses on two equally important parallel tracks:
Track 1: a gradual and planned improvement of the compliance, quality and understanding of the metals/inorganics registration dossiers
Track 2: to resolve outstanding technical and methodological issues that allow to improve the relevance of hazard, risk assessment and risk management of metals and inorganics.
How does MISA work?
MISA is built on the following blocks:
Definition of the baseline situation: surveys were run in 2017 within the sector and provided an overview of the situation of a number of registration dossiers for metals, metal compounds and inorganics (Baseline Reports).
Definition of common priorities for chemicals management's progress on Track 1 and Track 2, based on this baseline situation. These priorities are reported and communicated in the general rolling action plan with proposed actions and deliverables (e.g. thematic workshops, guidance update). The general rolling action plan is commonly reviewed and updated on a regular basis and communicated. An updated version will be posted in September 2019.
Where individual consortia & associations identify the need to improve the quality of their REACH registration dossiers (e.g. after a thematic workshop), they integrate the planning and progress made with these actions in consortia (MISA) & associations workplans with the appropriate priority.
The monitoring and review of progress made with MISA in a sectorial fashion, including recommendations for further review of priorities/actions.
What does MISA bring to the participants?
Participants benefit from sharing knowledge and practical guidance on issues specific to metals and inorganics, like for instance hazard identification and classification, reporting and assessment of UVCBs and exposure assessment. Joining increases the possibilities for data sharing and could support cost effective improvement of registration dossiers. MISA also allows to further build on the resources that industry has invested during the past 10 years in REACH registration and make the best use of the data, by improving, valorising and using these.
What does MISA expect from participants?
Participating consortia & associations, ECHA & Eurometaux have co-signed a 'Framework for Cooperation', which implies some commitments for the period 2018-2020:
By signing up to MISA, consortia & associations committed to implement an improvement strategy based on collective priorities. The priorities as well as the supportive tools are defined in the MISA general rolling action plan. These include workshops to exchange directly with ECHA and potentially interested Member States (e.g. like those who already planned to improve the information requirements for human health endpoints, read-across and weight of evidence for human health (2 October 2018) and chronic aquatic toxicity (7 February 2019). ECHA supports these activities by participating in the workshops, providing examples and commenting on deliverables.
Participants also agreed to an open communication on the goals, priorities and progress made with the MISA general programme.
It should be noted that while MISA encourages a priority-based continuous improvement of chemicals management, it is not a substitute for the compliance with legal REACH obligations and for related regulatory action. ECHA and Member States may continue to or initiate regulatory actions when necessary. On the other hand, MISA should normally reduce or prevent the need for such regulatory action by the means of an increased availability of improved information concerning chemicals and risk management handling, as well as by resolving outstanding technical issues.
The monitoring and review of progress made with MISA in a sectorial fashion, including recommendations for further review of priorities/actions.
In a nutshell: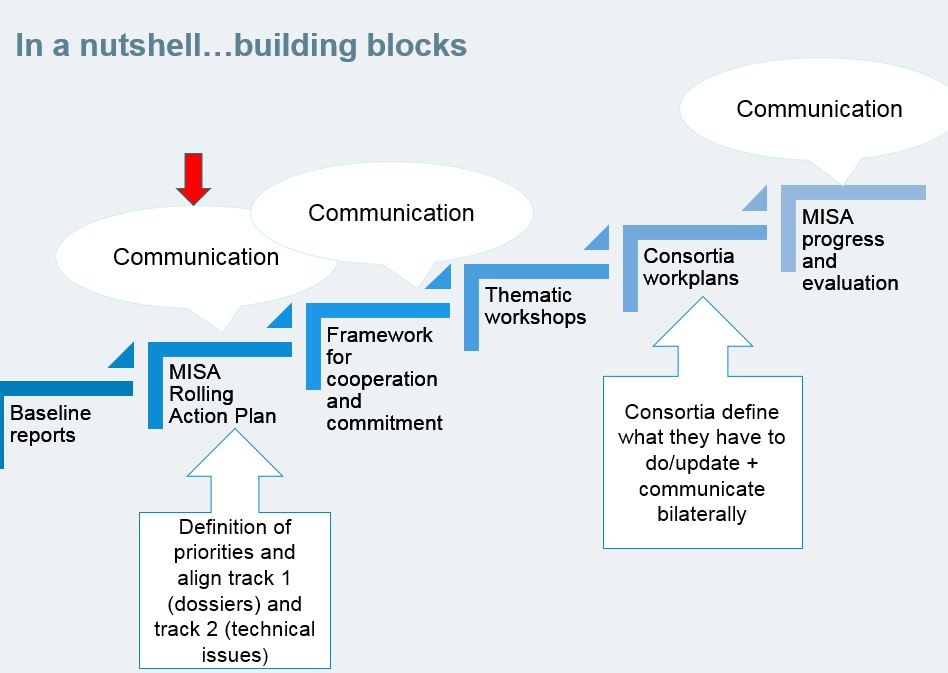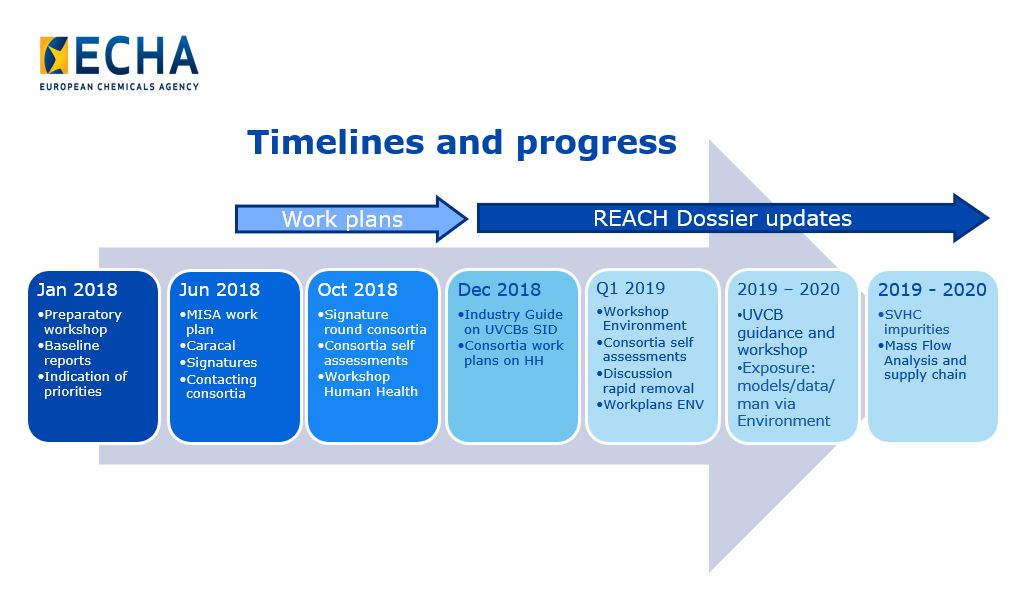 The first MISA thematic workshop took place on 2 October 2018 (in Brussels) and focused on information requirements for human health, adaptations, waiving, read-across and weight-of-evidence.
The second MISA workshop took place on 07 February 2019 (in Helsinki) and focused on Environmental information requirements.
The third MISA workshop took place on 05 November 2019 (in Brussels) and focused on UVCBs.
The fourth MISA workshop was planned on 23 - 24 April 2020 (in Helsinki) but has been cancelled due to the Covid-19 crisis (new date tbc asap). Aim of the workshop will be to improve the quality/reliability of the exposure data in the registration dossiers, measured and modelled for HH, ENV at local and regional level. A SAT EXP (Self-Assessment Tool Exposure) will be circulated to the MISA participants in early 2020.
NEWS:
Taking stock workshop: 13 February 2020, MCC, Brussels
Aim of the workshop: evaluate progress made with the updates, alignment with metals guidance/learnings from MISA 1 and 2 and discuss remaining issues
A short questionnaire will be sent out to identify remaining problems and questions
Prerequisite: to have submitted to ECHA a workplan/updated workplans
Registrations will open from 6 January onwards
Available documents and useful links:
Metals and Inorganics Sectorial Approach (MISA) rolling action plan
MISA updated rolling action plan
List of substances (updated November 2019)
https://echa.europa.eu/-/echa-and-eurometaux-agree-on-framework-for-cooperation
Executive Summaries of MISA Workshops:
MISA Priority Setting Workshop (January 2018)
MISA Workshop on Priority 1: "How to improve REACH registration dossiers on Human Health information requirements" (October 2018)
MISA Workshop on Priority 2: "How to improve REACH registration dossiers on Environmental info requirements" (February 2019)
MISA Workshop on Priority 3: "UVCBs"
Last page update: 9 July 2020